5 Quick & Easy Life Organization Tips You Can Do Right Now
Don't you feel so much better when your life is organized and on track? I know I do. That's why I've come up with 5 quick and easy life organization tips that you can do right now to get your life organized and on track.
This post may contain affiliate links meaning I get commissions for purchases made through links in this post. Read my disclosure policy here.
1. Organize Your Phone or Computer on the Cloud
These days most people have their whole lives on their phones and computers. Probably hundreds or thousands of pictures, videos, important documents and emails. What would happen if all of a sudden you lost it all? What if you lost your phone or dropped your laptop? Hopefully you can get your phone back or get your laptop fixed but don't take the chance of losing everything.
The best way to keep your pictures and documents safe is to back everything up. Set your phone up to save certain information to the cloud. There are many clouds out there to choose from such as Apple iCloud, Google Drive, Dropbox and Microsoft OneDrive. With your stuff saved to your cloud storage service, you can access it on any computer. So if you lose your phone or break your computer, your information is still saved and available for you to access.

Be sure to set this up as soon as you get a new phone or computer that way all your important information will always be saved. And if you haven't been doing this from the beginning then start now, before anything happens.
These are some of the more common cloud storage services and they all come with free space.
Google Drive- first 15 GB free
iCloud- 5 GB free
Dropbox- 2GB free
OneDrive- 5 GB free
After you use up your free space, you'll have to pay for extra storage, which is relatively cheap. Or you could go through your cloud every few months and delete the things you don't need anymore to free up some space. You can search online for how to back up your specific phone or computer. It's really pretty simple and you'll have peace of mind that your stuff won't be lost.

If you have a lot to save and don't want to pay for storage with a cloud service, use an external hard drive. These come with several terabytes of space which is more than enough space for most people.
Recommended External Hard Drive:
Western Digital 2 TB Elements portable external hard drive
2. Organize Important Information in an Emergency Binder
Another one of my life organization tips is to keep all of your important information in one spot that can be easily accessed such as a designated emergency binder. Keep information on your doctors, prescriptions, insurance policies, bank accounts, etc. Also keep emergency contact numbers for family, work, kid's schools, etc. You can find all kinds of free printables online for creating your own emergency binder.

3. Organize Your Life With a Planner
If you're like me you've tried all kinds of ways to keep your life in order but nothing really sticks for too long. That's why I always go back to using a planner. My planner is my all in one, go-to, to keep my life on track.
With a planner you can keep pretty much anything that pertains to your life in it. And some (like the Happy Planner) are customizable to fit your life. Keep everything from your schedule, family's schedules, appointments, lists, recipes, meal planning, budget, and so much more in your planner.
I've written several posts on this topic, be sure to check them out here or under the planning tab in the menu.
Recommended Planners: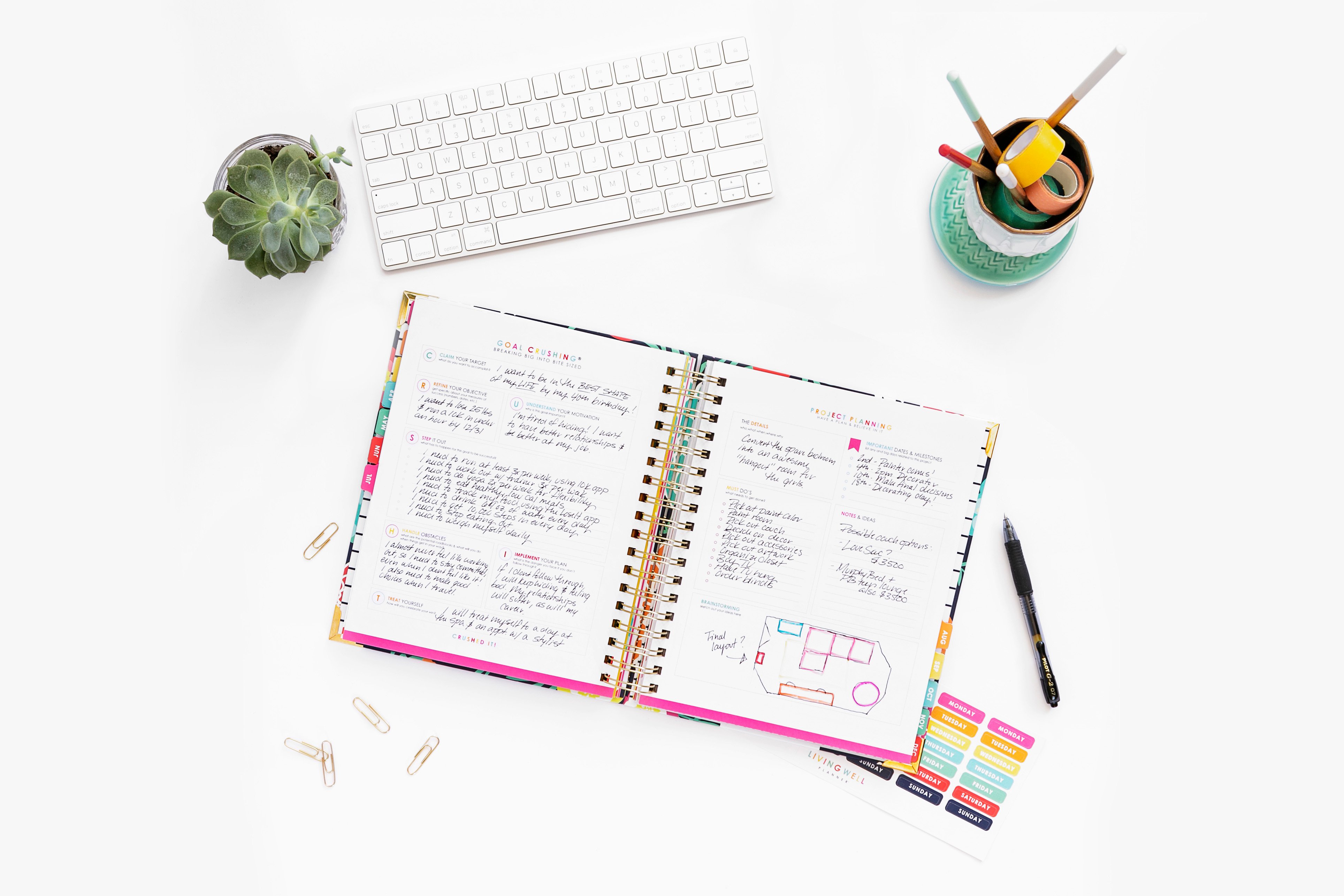 4. Organize Your Email
Time for an inbox purge. Depending on how many emails you've let pile up (ugh I'm currently over 1,000…) this could take a while, but stick with it. It'll be worth it when you get down to zero emails in your inbox. Now that's an awesome feeling!
First, create folders for those emails you tend to keep for later such as online purchase receipts, work or school related emails, website newsletters, etc.
Now the most tedious part is to go through each email in your inbox.
If it's something you want to keep for later file it into one of the folders you just created.
If it's something you need to reply to, star it.
If you have somehow gotten onto some mailing list and are now getting spam emails, mark it as spam and it will move to the spam folder.
If it's something you signed up for, but don't want to receive anymore, scroll to the bottom of the email and hit unsubscribe.
Next, set up filters so incoming emails go directly to certain folders. This will save you the hassle of having to sort through an overloaded inbox again. Search online for how to set up filters with your specific email provider.

Now that your inbox is clean, go through it at least once a week and clean it out so emails don't pile up again. 
5. Organize Your Family's Schedules
Keeping track of everyone's schedule can be a big headache if you don't stay on top of it. That's why using a shared family calendar app is a great idea.
The Cozi Family Organizer app lets all your family members access the calendar and add their schedule, appointments, events, and more to it. Color code by person to easily see who is doing what. Everyone can keep the calendar on their phone and have access to it. That way you always know what's going on and everyone is on the same page. You can do the same thing with Google Calendar.
By doing just one of these life organization tips listed above, you can start to feel more calm and relaxed. You can have peace of mind knowing that you are more organized and together than you were before you started.
Are you thinking of what gift to get for someone? Read my "Is A Planner A Good Gift?" blog post to get ideas.
Want to remember this "5 Quick & Easy Life Organization Tips" post? Pin it to your favorite Pinterest board!