Time Blocking For Beginners
If you've never used time blocking to help organize your time, then this is a great place to start. This article is all about time blocking for beginners.
Are you the type of person that never has enough time to get everything done? Do you constantly find yourself saying there's not enough hours in the day? Then you need a system to get your time in order and your life on track. Time blocking is a great way to do that.
This post may contain affiliate links meaning I get commissions for purchases made through links in this post. Read my disclosure policy here.
Who should use time blocking?
If you have a type A personality and like things structured and your days planned out hour by hour
If you feel like you don't have enough time in your day to get everything done
If you are constantly saying "where does all my time go?"
If you feel like your life is a chaotic mess and you're looking for a way to get organized
If any of these situations resonate with you, then keep reading to find out how time blocking can be beneficial to your life.
What is time blocking?
Time blocking is essentially breaking up your day into blocks of time. Using a planner or calendar that has an hourly layout works best. With an hourly layout, you can fill in each hour from the time you wake up to the time you go to bed with the tasks you need to do for that day.
You can fill in your calendar hour by hour, or just block out periods of time for each task. Color coding your blocks works well for this as you can see all of the related tasks you have scheduled.
How to use time blocking
Planning ahead is always a good idea, so get in the habit of planning your entire week out so you have an idea of what's to come and where you you might have some free time.
First, write into your calendar all the things you must get done for each day such as your work schedule, doctor appointments, classes, studying, the kid's soccer practices, etc. These are the things you've committed to doing and they have to get done.
Block out the entire time it will take you to get it done. For example, if you are scheduled to work from 8-12 fill it in on your calendar including the time to get there and back home.
Next in the spaces that are left, schedule in the tasks that should get done, such as cleaning, cooking dinner, or running errands. These are the tasks that we should get done every day, but wouldn't necessarily be a deal breaker if they didn't happen.
Now in the spaces left, you can add in any things you've been wanting to do but haven't had the time to do. Or you can give yourself some free time, whatever works for you.
By time blocking your schedule this way you can see any free time you have available for those things you think you don't have time for.
A lot of times we feel like there's not enough hours in the day or enough time to get everything done, but when you lay your schedule out like this you can see that you most likely have free time somewhere in your day or week.
The best time blocking planner for beginners
Ruth Soukup of Living Well Spending Less has a time blocking planner system that works great for beginners. She teaches you step by step her own personal time blocking system.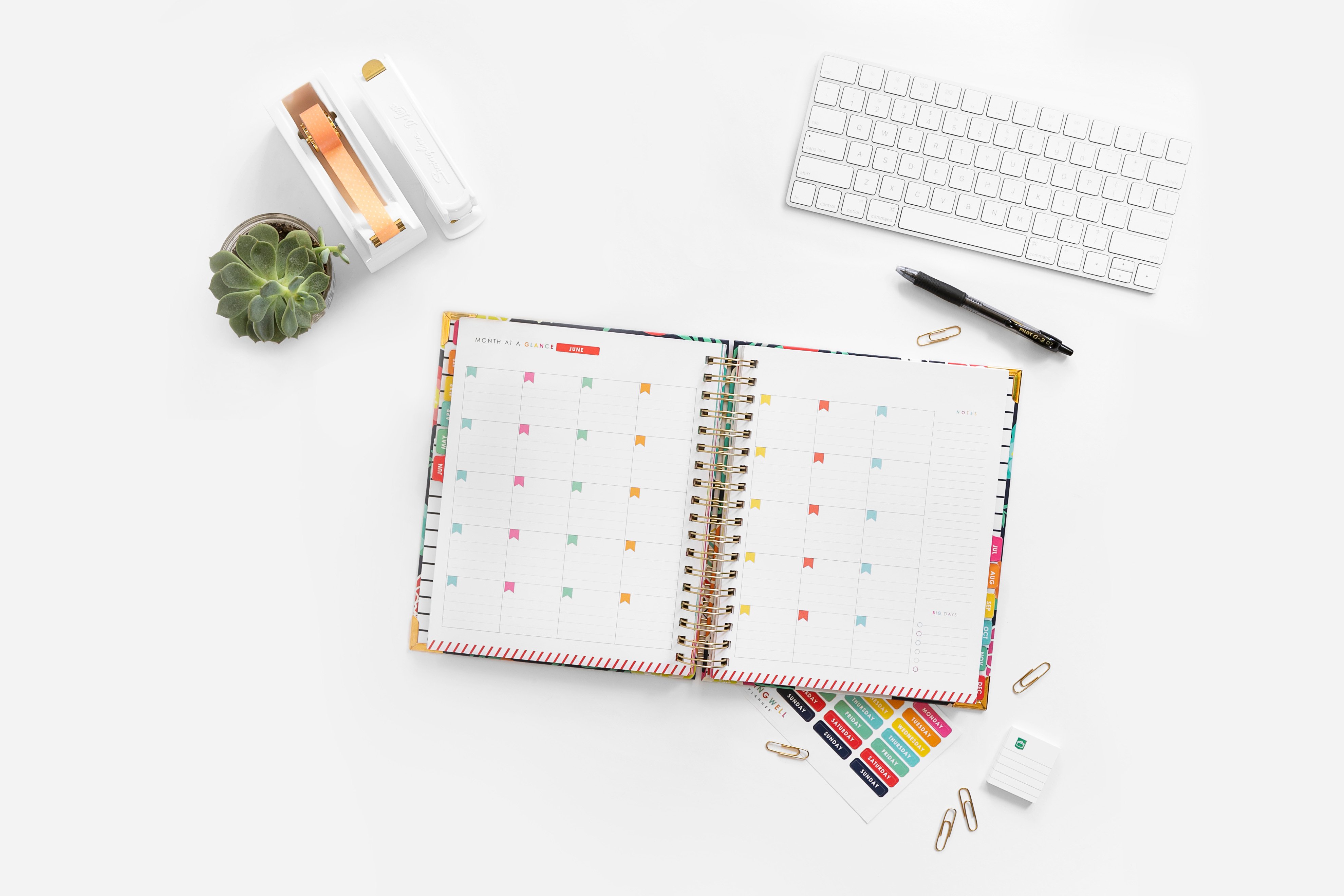 The Living Well Planner is a gorgeous, hard bound planner perfect for planning out your days and weeks using the time blocking method. 
Start by planning out the month ahead with the month at a glance pages. Take some time to really think about the things you want to accomplish for the month and set your intentions in different areas of your life such as finance, personal growth, and health and fitness. Fill in your Big 3 goals for the month so you can refer back to them often and make sure you are working towards accomplishing them.
The weekly vertical layout gives you plenty of room each day to fill in your blocks of time hour by hour. Each day includes a space for your top 3 must do items for the day and includes space for meal planning.
The Living Well Planner includes a monthly budget section to help keep your finances on track, project planning pages to help you plan out those details step by step, and Goal Crushing pages using Ruth's Crushing It system to help you accomplish your big goals and dreams!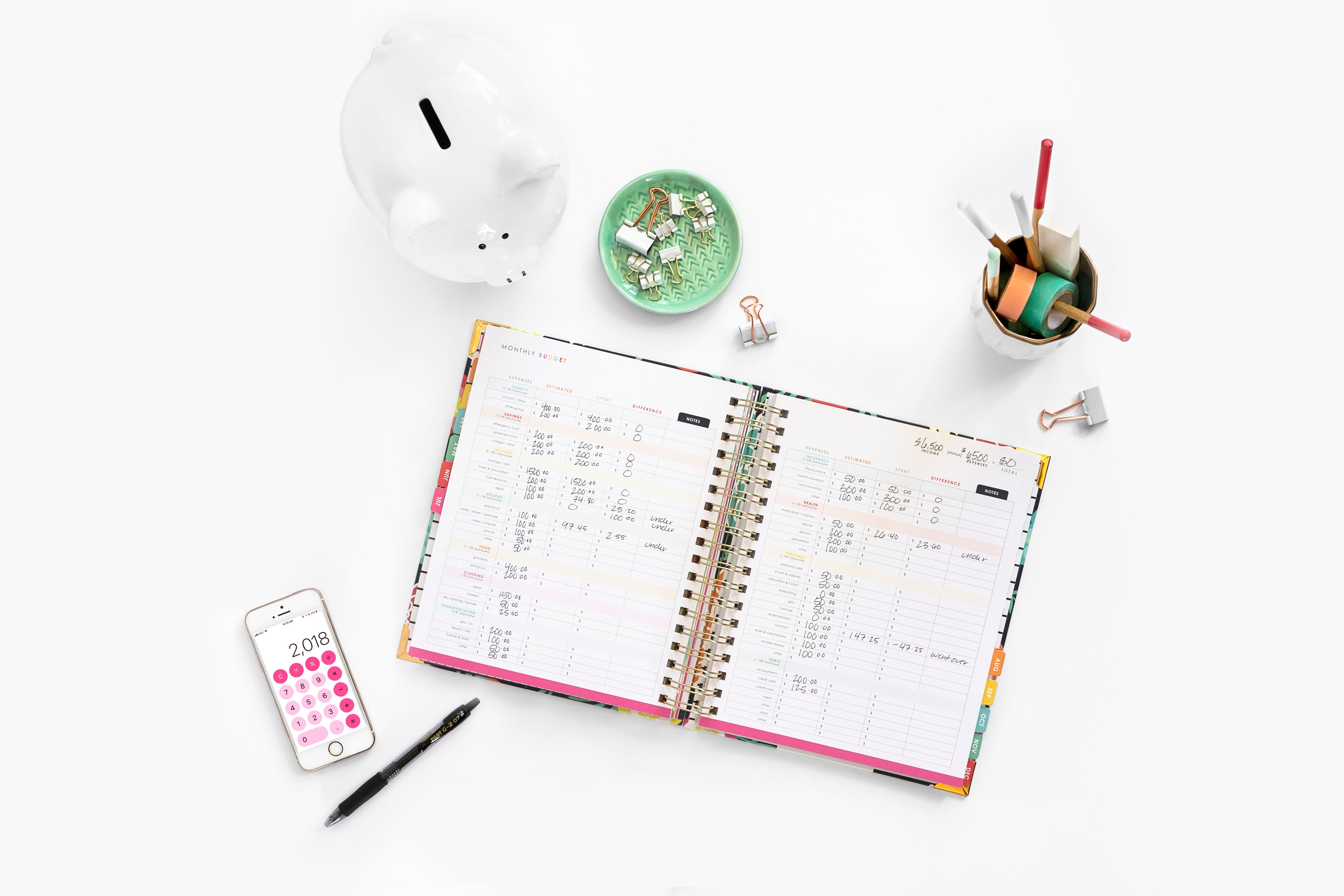 When you purchase The Living Well Planner you get access to Ruth's Crushing It Bootcamp email series where she literally walks you through her time blocking method step by step. 
You also get access to the Crushing It community Facebook group where you can interact with other like minded people who are crushing their goals just like you!
Using a time blocking planner really is a great way to help you organize your time throughout the day so it doesn't feel so chaotic. It gives you the ability to get all the things done you need to, and also fit in any extra tasks you've been putting off because you thought there wasn't enough time in your schedule.
And if you really want to focus on getting your goals accomplished each day try using the Daily Do It sheets from The Living Well Shop. Another great system that Ruth teaches is to prioritize your tasks each day by Must Do's, Should Do's, and Would Like To Do's. By prioritizing your tasks this way each morning, you can separate the things that need to get done that day from the things you would like to do (if there is enough time). 
You can purchase the Living Well Planner and Daily Do It sheets at The Living Well Shop.
Your days don't have to be a chaotic, unorganized mess. You can plan out a life you dream of, it just takes a little discipline and know how. Try some of these time blocking tips for a more organized day today.
Want to remember this post? Save it to your favorite Pinterest board!